COVID-19 & Distant Education
The world is changing. More and more educators are moving to online platforms during the pandemic to ensure the safety of their students.
Our educational package is remote-learning ready with the ability to seat-manage students to ease the installation process of software. We are also offering a full E-Book learning package with included assignments, at home exercises, and quizzes in a convenient PDF format.
---
Software Overview
The educational version of the 001 Game Creator was designed to be age-appropriate for students. While they will be able to learn to design their own video games, students will not be exposed to or be able to use the following in their work:
Blood and gore
Range-based weapons and guns
Household items used as weapons, such as baseball bats and crowbars
Graphics that could be considered related to religion or drug use
Swear words and foul language
Ability to disable asset creation to prevent designing of inappropriate weapons or graphics.
---
---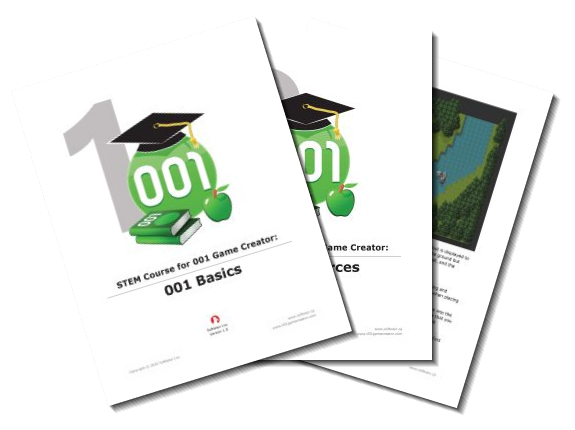 STEM Education
STEM stands for science, technology, engineering, and mathematics. Skills in these areas prepare students for continuing education and/or the workforce. Teaching video game design helps students acquire skills in these areas, in addition to developing writing and art abilities.
001 Game Creator provides a hands-on informal educational mechanism to teach students and children science, engineering and mathematics through the use of technology.
---
---
Optional E-Book
We are now offering packages that include our educators-exclusive E-Learning material, suitable for teenagers and young adults. This includes multiple sections walking students through the basics of the engine, exercises, assignments, and quizzes. E-Learning material comes in PDF format and can be either viewed or printed.
---

---
Pricing and/or Inquiries
Please double check your information before sending. You will get a confirmation in your email to verify your information after it has been sent.
Licenses run for a year from date of purchase. Software updates and E-Book updates are provided for free upon request.
We offer 10, 25, and 50 yearly packs at multiple tiers depending on your facilities needs. Please contact us below for a price quote: