General Video Tutorials
RPG Video Tutorials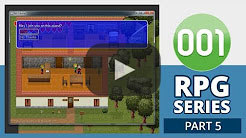 Making magic, adding a new party member and creating a kill quest, as well as building our game so that others can play it.
Create a flashlight as well as making a roof for our bedroom that toggles on/off when the player enters/leaves.
Adding hidden objects/temporary blocking as well as implementing an auto-save feature and removing the black borders that appear around small Maps.
MMORPG Kit Video Tutorials